Patchett Joinery have been manufacturing sliding sash windows, casement windows and timber doors for our customers since 1840. We are proud to join forces as a team, working with you as a trusted partner, supplying high-quality timber doors and windows, expertly manufactured to your specification.
As a family-business based in Bradford, West Yorkshire, we would love you to get to know us better, so we've created a series of blog posts "A Day in the Life of…", where you can get to meet our team members and craftsmen, from the office to the factory and install teams!
This week, we'd like to introduce you to our Contracts Manager, Steve Winterburn. Steve has extensive knowledge and experience within joinery, with many years of involvement in bespoke prestigious projects, making him the ideal person to head up our bespoke department.
Steve certainly knows that when he gets up, there is always going to be a varied array of work to be completed!
In timber manufacturing, the Contracts Manager must be able to be actively involved in other related areas and departments of the office and factory, being very hands-on in everything he does.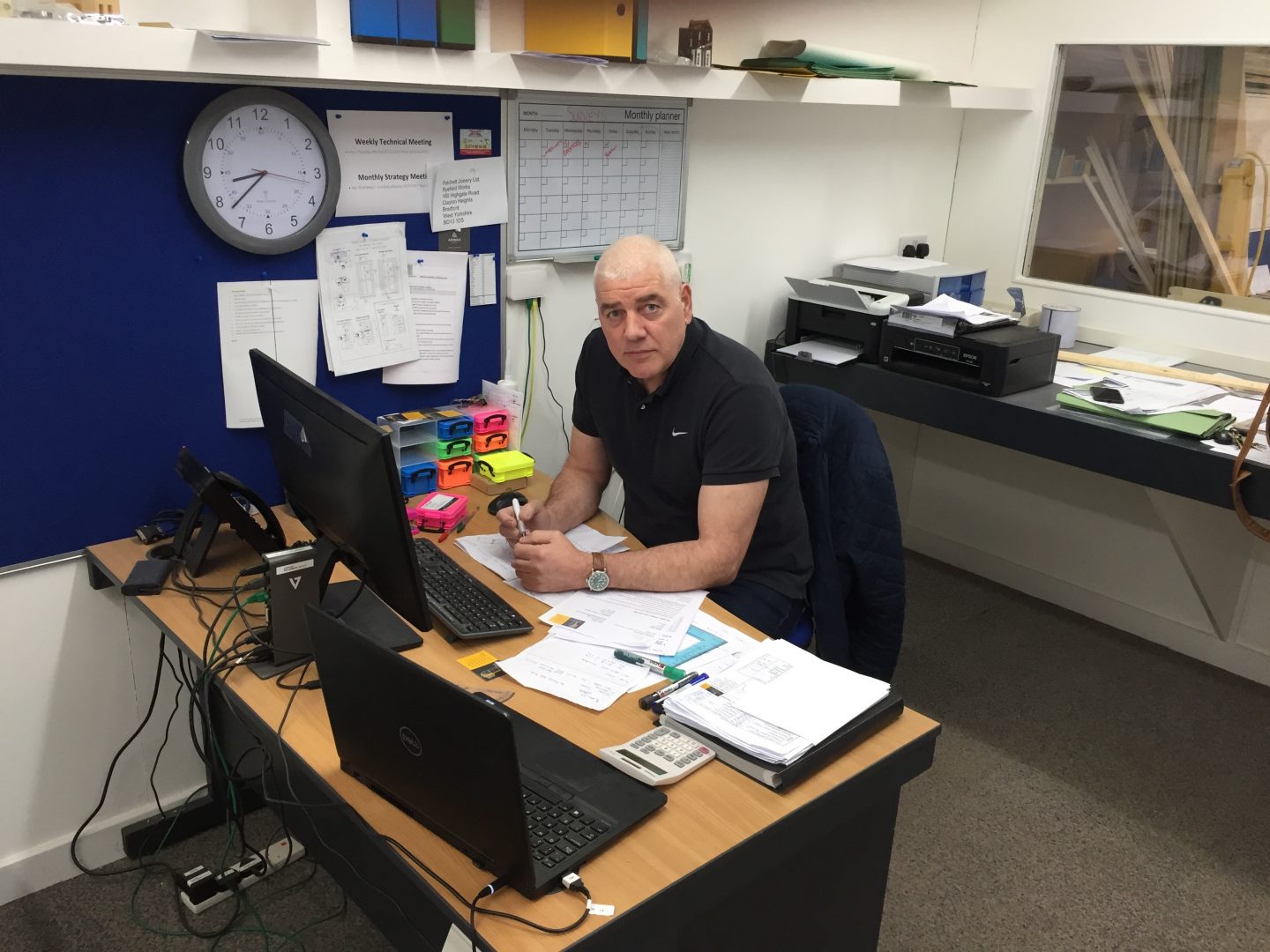 What does a typical day at work look like for Steve?
Look at the checklist of an average day in Steve's life, as a Contracts Manager:
The alarm goes off at 5:30 am for Steve! With a varied daily work schedule, he's typically at the factory before 7:30 am. As Contracts Manager, Steve is responsible for the day to day running of many areas of the business, with a fine eye cast daily over the running of the bespoke workshop.
Daily, Steve must:
1) Ensure everything is ready for our all fitting teams, including HSE, remote project management to ensuring each individual window and door is onsite on time and much more, reassuring customers that they're in safe hands.
2) Comprehensively monitor our bespoke joinery department, delivering consistent valued detail & quality to each individual product.
3) Daily check of all installation schedules with ongoing advanced planning with Rob, our Sales and Estimating Coordinator.
Diary management is key, as well as the above tasks Steve also heads up the project surveying department, undertaking varied detailed sites surveys, working in partnership with every client.
Questions & Answers with Steve
Q: What do you enjoy the most about your job?
A: Receiving feedback from customers after a full install is complete, thanking us for a job well done is the best part of my job and keeps motivation high, knowing it's all worth the demanding work schedules. Recognition from directors and colleagues is what also gives me satisfaction, I'm always delighted to praise others too.
Q: What education, skills and experience are needed?
A: My role requires strong man management and good customer relations. Also, building and joinery background and experience are vital to succeed and provide great service. I quite enjoy defeating challenges and being able to contribute to a great result.
Q: What tools and technology do you use?
A: My role requires many things; the most important is simple measuring devices for surveys, ensuring I get the first stage right, first time every time.
Q: Any misconceptions about your job?
A: None! Every day is different and my role changes with the demands of the business, all part of being flexible and contributing to the success of the business along with delivering the best experience for customers.
Q: What advice would you give?
A: I enjoy giving praise and incentives to the installation fitters and aspire to make the bespoke shop more independent, allowing them to start and finish an order without having to rely on others. Personally, I always strive to find time to discuss alternative methods of fitting and joinery methods. It's important to keep innovating improving our products and services.
At Patchett Joinery, we specialise in the manufacturing and installation of timber windows and doors since 1840. Proud of our heritage and the beautiful projects we work on, we know a thing or two about wood windows and doors.
We are proud that we only use sustainable timber and environmentally-friendly processes to minimize our impact on the natural environment.
Why not view our range of timber windows and doors or get in touch today for a chat with one of our friendly staff?
Don't forget to follow us on Facebook, Twitter, Instagram and Pinterest for daily posts on industry and company news!