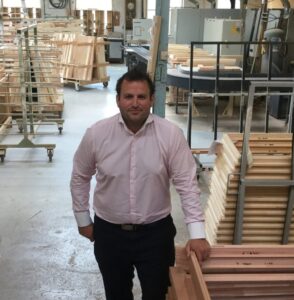 After continued year on year growth, Patchett Joinery is delighted to welcome Elliott Dawson to the company as General Manager.
"Before joining Patchett Joinery, I spent three years with one of the UK's largest importers of internal and external doors and also a regional construction / home building group.
This has given me a foundation within the building / home improvement sector and I am very much looking forward to getting to grips with the bespoke manufacturing side of this business, starting at the bottom and learning every part of the process.
Prior to my life in this sector I worked for Warner Bros based in London.
This honed my focus on various financial aspects of my skill set as well as customer services and the need for communication between all departments of a business in order for it to be successful.
This is one area I believe every business can improve on and requires continual work in order to succeed.
I'm looking forward to working with a great team and wonderful products. Hopefully I can be the lynch pin between the sales team and our internal staff, offering support and advice in equal measure.
Customer service is at the forefront of my working life and I hope that this will show in the quality of service we give our customers matching the undoubted quality of the products.
I would welcome any prospective customer to arrange a visit to our factory and see the quality we produce and listen to the extensive knowledge of our MD, James Patchett. This would most certainly be a great customer experience and allow us to showcase our products."